How to Register Your Device to FREESPOT
Two registration methods are available:
 1.
Register Before Connecting
 2.
Register on the Spot
   (Please note that there may be conditions to determine how you can register.)
How to Register Before Connecting

 1. Open the
pre-registration page
.
 2. Enter your email address and your device's MAC address; select "I agree" and click [Submit].
   Click
here
for more information on finding your device's MAC address.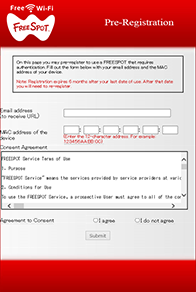 3. Verify the information and click [Register].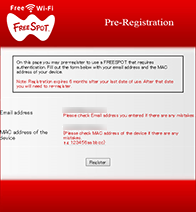 4. You should receive an email from FREESPOT shortly. Click the URL in the email.
Note: Configure your anti-virus and spam filter to allow emails from the "@freespot.com" domain.  

 5. Registration is finished.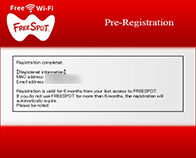 How to Register on the Spot
 
Note: Some devices may not be able to register on the spot. Click here for more information.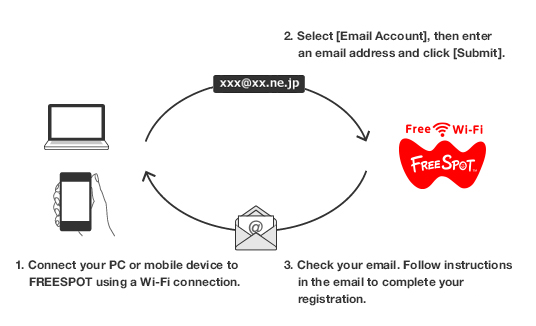 Watch videos for details on how to connect
[How to view videos]
| | | | |
| --- | --- | --- | --- |
| Rewind | Press <- Key | Pause | Click a screen while playing the video |
| Jump | 1,2,3,,,9 Key | Play | Click a screen when video is paused |

Email Authentication
(iPhone)

SNS Account Authentication
(iPhone)

Guest Access
(iPhone)

Email Authentication
(Android)

SNS Account Authentication
(Android)

Guest Access
(Android)