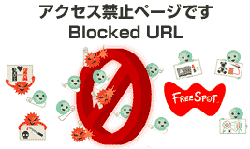 本FREESPOTでは、有害サイトをフィルタしています
表示要求されたURLは、本FREESPOTのセキュリティポリシーに基づき、 有害サイトと判定されました。本FREESPOTからはアクセスできません。 ご了承ください。


Our FREESPOT service filters harmful sites.
The URL you requested was considered as a harmful site based on FREESPOT security policy.
You cannot access this site from FREESPOT service.


アクセスを禁止しているサイトとは
・ご利用者にセキュリティ上の危険があるページ
・反社会的ページ(犯罪・暴力・薬物・不正IT技術情報)
・その他、公序良俗に反したページ、過激なページ
公共施設では、出会い系ページも対象となります。


Harmful site you cannot access from our service is defined as:
- Malicious site for users.
- Socially offensive site (including crime, violence, drugs, and illegal IT information).
- Any other site that is offensive to public order and morals or radical.
Any dating sites are also subject to access blocking in public places.